Classes for Complete Beginners in Latin & Ballroom Dance
Class for Couples & Individuals
This beginners class is for everyone. You don't need any previous experience. It'll be an easy to follow, fun class which takes you from the beginning, through each of the Latin and Ballroom dances in turn. You can bring a partner, or come on your own.
New intake: Tuesday 7 November 2023
Time: 7.45pm to 8.30pm
Location: Pontprennau Community Church, Cardiff CF23 8LL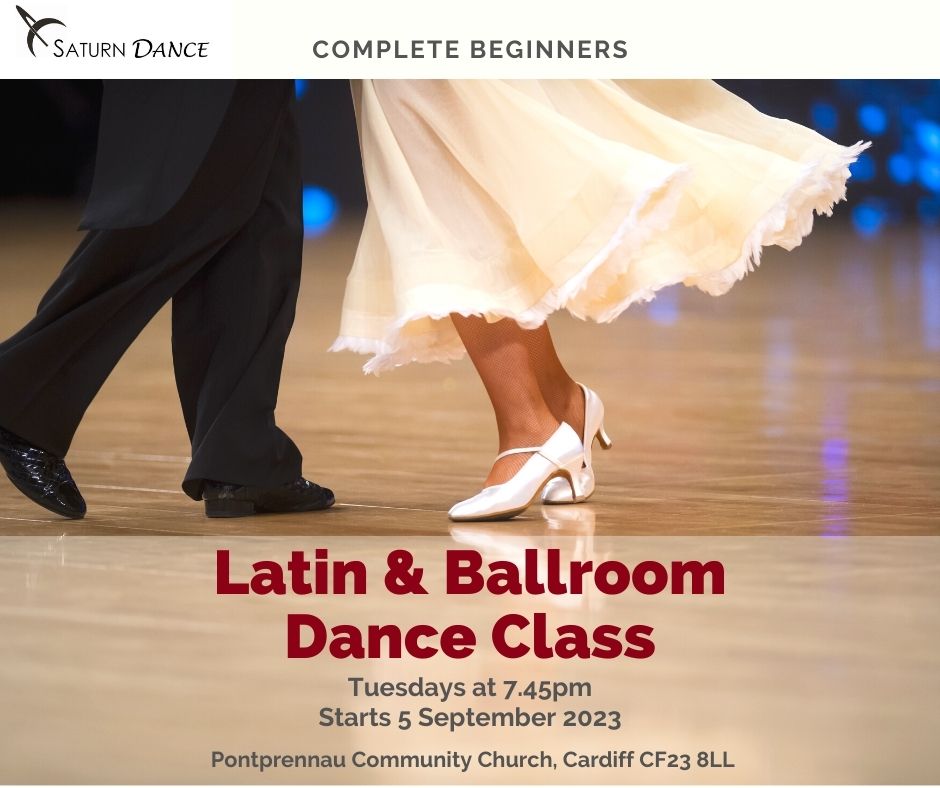 Beginners classes explained
Our beginners courses are suitable for complete beginners with no previous dance experience.
Over a course of 6 or 7 weeks, we will introduce you to three different dances (for example, cha cha cha, merengue and foxtrot).
At the end of the course, you will be able to dance a simple routine in three dances with a partner, to music.
The course is progressive: each week, you will recap what was taught the previous week as well as learning something new.
After the first course, we normally continue with another course at the same time and place. At this point we will accept new people into the class (new intake). We will introduce you to three more dances (for example, tango, jive and salsa). That way we will introduce each of the latin and ballroom dances in a way that is new for everyone regardless of whether you have completed any of the previous courses.
We are very experienced in teaching all of the following dances: cha cha cha, rumba, samba, jive and paso doble (the Latin dances), waltz, foxtrot, tango, quickstep and Viennese waltz (the Ballroom dances); merengue, salsa, lindy hop (Alternative Latin). We also occasionally throw in some Charleston, American smooth, disco and more!
CONTINUE THROUGH THE LEVELS
If you continue through all of the beginners courses, you will progress through the levels as we introduce you to each dance in turn. By the end of all the beginner courses you will have been dancing for a year and you will be a confident social dancer, able to dance socially with a partner in ten different Latin, Ballroom and Alternative Latin dances.
Everyone is welcome, whether you are bringing a partner or coming on your own!
Some of our classes are specifically for couples, or for individuals. This will be specified in the class title.
Couples classes are for two people who will be dancing together.
We don't mind what relationship you have (mum and daughter, same sex couples, two friends dancing together, everyone is welcome!) but one of you will be dancing leaders steps, and the other will be dancing followers steps.  You will be dancing in hold with your partner – we will not change partners during the class.
Individuals classes are for those without a dance partner. All routines are taught solo to start with, then you will partner up with others from the class to dance together. We will change partners so that everyone gets to dance with a partner.
1 class – £10 (drop-in)
4 classes – £40 £36 (pay up front)
8 classes – £80 £72 (pay up front)
Highly recommend!
Have been going about 18m now. Every week we review a dance and/or learn some new steps. The lessons are easy to follow and not scary at all! ☺️ Social dances are great fun. Highly recommend!
Megan Belanger
Absolutely hooked
I'm really glad that we found Saturn Dance; after only 4 months we now know steps of 10 dances. Our range of steps and technique may not be at Strictly level but we can get up and dance to so many different rhythms. The classes are so informal and fun and everyone seems to make surprising progress.
Sarah Scullion
Saturn Dance is simply fabulous
Friendly, expert and informal tuition, done with lots of laughs and so good that they are (somehow) capable of teaching even me. Their commitment to their students and to dance is also quite astonishing.
Tony
Excellent beginner dance lessons!
Excellent beginner dance lessons! Fun, easy way to learn how to dance. We are/were completely new to dancing and were nervous to start. So glad we did!
Megan Belanger
Great fun
There is an excellent balance of conversation, learning, teaching and humour in the classes, with none of the teachers taking themselves too seriously. Great fun, good exercise and excellent value for the amount of sheer enjoyment! xxx
Tam Ashworth
So much to offer
There are extra practice sessions once a month, which is ideal for those of us whose kitchens are too small to practice at home. There are monthly social dances: great fun with loads of support from fellow dancers and teachers. There is even a glitter ball!
Sarah Scullion
🙂
Fantastic instructor and a great, fun class!
Jade Jones
One of the most enjoyable hobbies I've ever had
If you have ever even had the remotest inkling or tug of desire that you would like to try dance lessons then you have to go to Saturn Dance. The classes are warm, friendly, funny and welcoming whether you're going alone (as I did) or as a couple.
Tom Beer
100% recommend
If you've ever thought about giving dancing a go – look no further than Saturn Dance. Great expertise in a relaxed atmosphere learning alongside dancers of your level (we started from scratch with a brand new group). Monthly socials and extra practice sessions too. 100% recommend.
Andrew Glanfield
Always a laugh
Always a laugh, great for beginners – watch you don't step on your partners toes!
Amelia Lewis
The classes are always fun
Darren and Lucilla are always cheerful, positive and welcoming. They create a relaxed atmosphere and make you feel encouraged and not intimidated.
Alan Mason
Absolutely love it!
We've been dancing with Saturn Dance for 6 years now and absolutely love it! We started off as very nervous beginners but thanks to Darren and Lucilla's brilliant teaching we now have the confidence to do so many dances( Foxtrot, Samba, Cha Cha, Waltz etc)
Moira Herdman
Very much enjoying our lessons
Not going to lie, I was a little nervous when we first started, but the lessons are nice and informal and Darren is incredibly kind & patient.
Gwynfor
You'll love it
We are now absolutely hooked and really look forward to our weekly class. I would recommend it to anyone who is tempted to give ballroom dancing a try – you'll love it!
Sarah Scullion
Welcoming
I felt welcomed from the moment I walked into the class (if deeply uncomfortable due to it being completely out of my comfort zone!)
Tam Ashworth
Amazing
Amazing, patient teachers. Amazing, thoughtful, caring people. We've tried a few different types of dance and Saturn Dance is the one we can not leave because of how much we have learnt from them and how fun the lessons are.
Naomi Wright-Ashworth
Highly recommend!!
Darren and Lucilla are the best dance teachers around, highly recommend their classes!!
Laura Perry
Started as a non dancer
Darren Lucilla, Helen ,Jen and Steph all have a relaxed style of teaching Lessons are fun as are the social events Would recommend to anyone ..give it a go !
Shon Phillips
The teaching is high quality, yet friendly and relaxed
Saturn dance are a great dance school for anyone interested in getting in Latin and Ballroom! The teaching is high quality, yet friendly and relaxed, with teachers eager to help and demonstrating a genuine love of dance and a keenness to share it with others.
Luke Morgan
Absolutely love it!
We have met some lovely people in the classes and the Socials every 4- 6 weeks are a great way to practice the steps and get some extra tuition . If you have always wanted to try ballroom dancing but have felt unsure or shy, I promise you will quickly gain the confidence to dance across the floor and also you will have a lot of fun along the way!
Moira Herdman
Very much enjoying the lessons
They teach the lessons so you can just enjoy dancing and ensure you can make it around the floor. Very glad we chose to start going and will continue to do so for as long as we can.
Gwynfor
Great teaching and community.
Started as a beginner and felt very welcomed and encouraged. Good value and a great environment to give dancing a go for the first time, or, improve and build on your existing skills!
Chris Heath
Great instructors
Great instructors who are extremely patient and bring a lot of fun to learning.
Jenny
Totally recommend
It is really lovely to join a class where you you can enjoy the dancing without any pressure. Would totally recommend Saturn Dance classes.
Jenny
Exceptional
Both Darren and Lucilla are exceptional dancers and exceptional teachers who are able to explain the WHY as well as the HOW of footwork, arm placement, positioning etc.
Tam Ashworth